Cop or drug dealer?
Roberto Pulido's story shows how easily the divide between law-keepers and law-breakers can break down — if nobody is paying attention
The Boston Phoenix  |  By DAVID S. BERNSTEIN | November 9, 2006
CROSSING THE THIN BLUE LINE: Pulido could face up to 10 years' imprisonment
Meet Roberto Pulido, 41. He's a 10-year veteran of the Boston Police Department and, if critics are right, he could be the poster boy for the BPD's inability to police itself. In July, the FBI arrested Pulido, along with fellow Boston police officers Nelson Carrasquillo and Carlos Pizarro, in Miami, where the officers were nailed for protecting cocaine traffickers. They were charged with a staggering litany of serious federal crimes: identity theft, narcotics dealing, obstruction of justice, robbery, assault and battery, money laundering, insurance fraud, providing protection for illegal after-hours parties, and smuggling illegal aliens. The only one of the three to be charged with all these crimes was Pulido — whom federal authorities regard as the circle's ringleader.
The BPD now is investigating allegations that some officers participated in drug-and-prostitution parties at a Hyde Park building owned by Pulido. Only when a friend of Pulido's turned informant for the feds, and the feds informed the BPD of its investigation, did suspicion set in. Which raises the question, how well does Boston police its own police?
It's not as if there hadn't been plenty of red flags. Pulido failed two drug tests in 1999. He was involved in a suspicious shooting incident in 2002. And for some reason, Pulido's supervisors didn't think to question how the cop had time to run several businesses while holding down his BPD job, or how he could afford to buy two buildings while supporting six children.
The department failed to learn from the self-scrutiny it endured as a result of a similar scandal just 10 years ago. In 1996, Bostonians learned that detectives Walter Robinson and Kenneth Acerra, working in Jamaica Plain and Hyde Park, had for years abused their authority, doctoring up phony search warrants and pocketing cash and drugs from people's homes. Both later pleaded guilty and served three years in prison.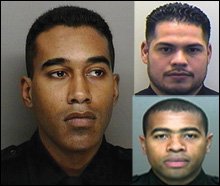 FULL STORY HERE: http://thephoenix.com/boston/news/26961-cop-or-drug-dealer/#ixzz3O53WR6OO