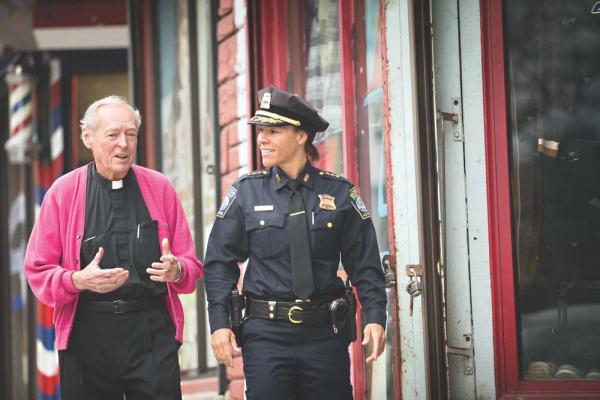 [
Source]
By Bill Walczak, Reporter Columnist
Key BPD ally deplores shift on walking beats in Bowdoin-Geneva area

For many years, Fr. Richard "Doc" Conway has partnered with Boston Police to engage directly with residents in Bowdoin-Geneva near his longtime parish base, St. Peter's Church. He has led walks— often in tandem with officers assigned to the neighborhood beat – that have frequently been highlighted by the department itself as an essential ingredient to combating violence and promoting Boston's brand of community policing.
This week, in an interview with the Reporter, Conway expressed his frustrations with the BPD, saying it is actively discouraging patrol officers from participating in that sort of direct engagement with residents and merchants. It is a change, he says, that will lead to more crime. Conway says the change in policy took effect in the aftermath of the May murder of George Floyd and the subsequent protests across the nation.
While couching his critique with his opinion that the BPD "is a good department," he continued: "My concern is that, even though Commissioner Gross is into community policing, community involvement… and Marty Walsh talks about police being involved in the community, that's not happening anymore."
He said that "underneath the commissioner there are people there who either don't buy into what he believes in or they're blocking it for some reason."
Ordained as a Catholic priest in 1963, and called "Doc" as a reference to the fact that his father was an obstetrician, Conway's ministry has been described as nomadic, with assignments throughout the Boston Archdiocese over the last 57 years. He was given a "temporary" assignment in Dorchester in 2009 to cover for another priest who was ill, and wound up staying.
"That's some temporary assignment," he said.
While posted here, Conway's main focus has been the Bowdoin-Geneva area, though he has worked in many other neighborhoods. Like all good leaders, "Doc" realizes that relationships are the key to solving problems. He's on a first- name basis with elected officials, city department leaders, police, community groups, merchants, and hundreds of families in Bowdoin-Geneva, relationships built by both learning Spanish and Portuguese and by walking around and talking to people.
He is known for having good relationships with police officers and helping them make connections with residents, especially the young people living on the three-decker-lined streets around Meetinghouse Hill.
"Doc" said he recently saw a police officer on Hancock Street and attempted to engage him in discussion. "I stop and introduce myself and say 'Is this a fixed post?' He said no. So I said, 'Come on, take a walk with me for 15-20 minutes down the street.' "I can't," he said. I say 'Why not?' He said, "I have to do what I'm told." I wonder what he's been told. From what I hear, he's been told— all of them— do not engage with people. That's completely contrary to community policing."
Conway continued, "You go down to Fields Corner, where there are programs going every day. And a cop will never get out of the car to go over to say hi to the kids. I go to the captain of C-11, nice guy [his obstetrician father delivered the captain]. He says, 'It's not from me, it's coming from higher up.'"
"Doc" has reached out to police officers with whom he had previously walked. "I tried and got two guys to walk with me from the Community Service office. 'We'll meet you at 4 o'clock,' they said. At five past 4, after their shift was over, they're doing it on their own time, because they can't do it during the regular shift."
Fr. Conway attributes the police decision to pull back from walking the neighborhoods to the protests following the killing of George Floyd.
"Before that, if I asked a cop to walk with me, yeah, sure, they get out of the car and walk. Never had a problem. Now it's all changed. Protests downtown set it off."
He himself has attended some of the protests, and he has some strong feelings for those who have protested, and then moved along.
"You come down here, you protest, you go home to your suburbs, you feel good. But you're not doing anything. Why don't you volunteer as a big brother or a big sister? Why don't you come down to the Boys and Girls Club or the Y and tutor kids?"
Rev. Richard "Doc" Conway at home in St. Peter's Church on Meetinghouse Hill in 2014. Tom Kates Photography

"Doc" insists that people he knows in Bowdoin-Geneva want to see police officers walking in their neighborhoods and engaging with them again. "You walk down the street and the people are glad to see the cops, they want to see them."
He described an event next to the C-11 police station involving kids and both Boston and school police. "They had a little dialogue between the police and the kids [to the question of what you'd like to see changed]. One little kid puts his hand up and says, 'I'd like to see more police around, makes me feel safe.'"
When asked where he thinks the problem lies, Conway said, "I don't think it's Willie Gross. It's the command staff… I think that's where it is. These people must have an idea that the people are going to turn on the cops. They're not, in my opinion. We're just talking maybe take a walk for two hours a day. What does it take to walk down the street and say 'Hi'?"
Conway still holds the BPD, particularly its Community Engagement Bureau—in high regard. "[Superintendent] Nora Baston and her group said they'll walk, they do a lot of good stuff, so she walked with us, and they saw the reaction. 'Nice to see you, hey are we going to have the safe streets team back?' The safe streets team was a group of seven people who, when they were up there, knew everybody. The crime rate went down 40 percent. This summer, we've had three killings on Adams Street. So, the shootings are up.
"The problem is, and I've complained to the police department about this: They're not publicizing the good things that the police do. Lots of little things going on. At Franklin Field, kids want their pictures taken with the cops. Everybody says hi. There's no big problem. I can't figure out why they're not engaging with the neighborhood."
"Doc" expressed his fears if the tactics do not change. "They have a great reputation. I can't imagine what it's like in some of these other cities. New York is going through a real mess right now. That's where we're headed – more killings, the numbers going up and up. Just walking the streets, is it going to solve it? I don't know, but at least it's going to help."
Asked what his message is to the powers that be, he said: "Can we get the police back on the streets talking to people, talking to kids? There's still stuff going on that the Bureau of Community Engagement group is doing, and they need help.
"When [Captain] Sexton was in charge of the police academy, he used to ask me to speak to the recruits. We'd meet and walk around the neighborhood, and then we'd meet at the Bowdoin Street Health Center. And I'd do a power point around community policing… Coffee with a cop, basketball with kids. Even the recruits didn't know about half the things being done by police officers.
"I don't see police walking and when I ask, they say that they can't. I think that's a big mistake and it's going to hurt the trust level that the police have built up over the years. Because they're a good department, they're good people. They're not into brutality, they're not into that stuff.
"If you want, walk with me. I'll walk with any cop any time," said "Doc" Conway.
•••
The Reporter asked Mayor Walsh's office and the BPD if they had any reaction to Fr. Conway's concerns in the story in this week's edition.
On Tuesday afternoon, Sgt. Detective John Boyle of the BPD's office of Media Relations offered this comment:
"Community policing is a central pillar of the Boston Police Department's work, and Boston is seen as a model in our nation for being a city with strong police-community relations. All Boston Police officers work every day to continue building trust and positive relationships with community members.
"COVID-19 made everyone adjust their way of engaging and delivering programs, with some transitioning to virtual opportunities, but our commitment remains the same to building on the progress we have made and further strengthening relationships with the community and other agencies that work in violence prevention, intervention, and trauma supports."