Boston police commissioner wants law to push back on camera-toting cop watchers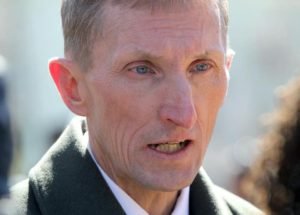 Officials say filming can cause risks to both officers and community when there is a tense crime scene involved
Aug 10, 2015
By Matt Stout | Boston Herald
BOSTON — Boston police Commissioner William B. Evans is calling for laws to regulate the proliferation of cellphone-toting citizens and so-called cop watchers dedicated to recording potential police misconduct — a trend that has given rise to new challenges and risks for officers at crime scenes.
"If we can get legislation that protects both sides, I'm all for it," Evans told the Herald late last week. "Should you be up in a police officer's face and agitating them? Absolutely not. Because we've seen it through all these demonstrations. It interferes sometimes with us (being) able to look at the crowd and focus on what our mission is."
The attention around the public filming of police has exploded in recent months after cases in Charleston, S.C., and Baltimore showcased the power of citizen video to document misconduct by cops. More recently, cases have emerged locally of allegations involving officers from Chelsea and Medford.
But law enforcement officials say its proliferation has spawned new risks, ranging from distractions at a tense crime scene, to putting up barriers to community policing, which has become such a focus of local departments.
Evans, in a sit-down Herald interview, said officers are "very much aware that everyone has eyes and ears on us all the time."
"But when you're just out there for the very reason of, you know, trying to get a gotcha moment, that's irritating to us," Evans said, pointing to instances on July 4 and following the March shooting of officer John T. Moynihan, when police were met by a group of vocal video-takers at the edge of the scene.
Evans said he'd support legislation dictating the space between police and video-takers. "Would I love to see a little distance? I'd love to see it," he said.
He also pointed to an Aug. 3 incident when a man with outstanding warrants kicked an officer in the chest and knocked another to the ground as they tried taking him into custody on Summer Street.
"During the altercation, as officers struggled to subdue the suspect, they noted that they were being videotaped by the large crowd that had gathered," officers wrote in their report. "In need of help, officers asked members of the crowd and a security guard for help. No help was offered."
Evans said that should never happen. "I'd also like to see some legislation that if a cop is on the ground struggling with someone, like he was the other night and everybody is videotaping, someone should be held accountable for not stepping up and helping them," he said.
Such legislation, however, could face challenges. A bill in Texas proposing a required distance for cop watchers was met with heavy opposition. And Matt Segal, legal director for the ACLU of Massachusetts, said he believes any law — either dictating a required distance or charging those who choose to videotape rather than intervene — would be overturned.
"As long as someone is not obstructing a police officer's movements, they have a right to record," Segal said.
Robert Bloom, a Boston College Law School professor and civil rights attorney, said legislating distance "makes some sense."
But, he said, "My primary objective is getting an accurate record. In the past, the police automatically were thought to be telling the true version. It doesn't mean a (camera) is going to solve everything. … But at least there's a record. And that becomes important."
The impact of cameras, police say, has cut in various ways. Chelsea police Chief Brian Kyes said officers who stop to talk to at-risk youths, including those with criminal records, are often met immediately by smartphones set to record.
"Maybe it's to act as a deflector or a shield," he said. "But if you're having that conversation, and 30 seconds in they realize this guy is not a bad guy, they get tired of holding that phone in the air. And that shield is now down. … (Cameras are) becoming a quote-unquote given. It's not a bad thing. It's something to be mindful of."
Police say they recognize that the filming of officers is a legally protected right that civil liberty advocates say is only growing in importance.
"I think it's important that people finally feel they have something in their hand that allows them to bring the truth to the surface," said Urszula Masny-Latos, executive director of the National Lawyers Guild Massachusetts, which has helped train local cop watchers on the legalities around filming police.
Copyright 2015 the Boston Herald