BPD complaint process irks Roxbury resident
Dan Cruz suffered through a two-year process that sided in favor of the officer.
Yawu Miller | Baystate Banner | 2/4/2015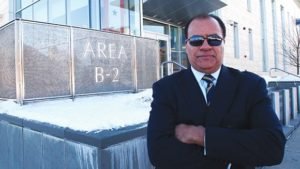 After a police officer at a construction site screamed at Daniel Cruz in December, 2012, Cruz filed a complaint at Boston's Area B-2 police station. Two years later, after multiple phone calls and letters to unresponsive police personnel and a drawn-out process that found in favor of the officer, Cruz wonders how the department's complaint process could work for any civilians.
"The process is awful," he said. "At every stage of the way they're trying to discourage you."
Cruz's ordeal began on Dec. 14, 2012 when he was driving through street construction near the corner of Washington and Guild streets. The traffic on Washington Street was restricted to a single lane, and Cruz, heading toward Egleston Square, was stopped. The officer motioned for Cruz to proceed, Cruz says, but then jumped in front of his car and ordered him to stop.
When the officer approached the car, Cruz rolled down his window. Cruz says he asked why the officer motioned for him to move and then stopped him. The officer denied he had done so.
"He drew a breath, and screamed at the top of his lungs," Cruz said. "He was less than two feet away from me. He almost put his face in the car. He was disrespectful, he was aggressive."
Throughout the encounter, Cruz says, he remained calm.
"I did not offer up any verbal retorts or talk back to him," he said.
The officer told Cruz to back his car up and pull over to the side of the street. Cruz says he was detained by the officer for eight to ten minutes, while the officer took his license and registration and continued directing traffic. When the officer directed Cruz to leave the construction site, Cruz asked why he had been detained. The officer said, "If you have a problem, speak to my supervisor," and motioned toward an officer, Sgt. Doris, standing near the corner of Washington and Circuit streets.
Doris' initial response, as Cruz recalls in his complaint, was "What's your problem?" Undeterred, Cruz filed a formal complaint with Area B-2 Captain John Davin.
"I find this entire incident very troubling, belittling and condescending," Cruz wrote in his complaint letter. "I'm not sure why a Boston Police officer, while directing traffic, whether his signal was clear or unclear, would scream at a motorist who never raised his voice or said anything confrontational or disrespectful, pull him over, hold his license while he continued to direct traffic for some 8-9 minutes, and then tell him to go. Was this some type of punishment or condescending behavior? Is this common practice for the Boston Police Department? Verbal abuse isn't acceptable anywhere that I'm aware of, why is it in the streets of Roxbury?"
FULL STORY HERE:
http://baystatebanner.com/news/2015/feb/04/bpd-complaint-process-irks-roxbury-resident/